Scholarly Works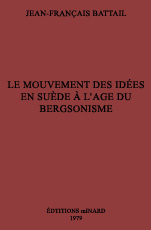 Le Mouvement des idées en Suède à l'âge du bergsonisme
Jean-François Battail.
ISBN 2-256-90800-5
Perfect bound, édition brochée, Paris, Minard, 1979, 13,5 x 21,5 cm, pp. 416. €.57,00.
This magistral work, awarded the prize of distinction by the Swedish Academy, has in itself made history in the study of the philosophy and history of ideas in Northern Europe. Battail's penetrating analysis of Bergson's ideas offers an illuminating synthesis of the literary, political, philosophical and sociological trends prevalent in the Scandinavia of the first third of the Twentieth Century, the latter being perceived in the light of the various influences from Germany, England, Denmark and France. Battail's work is essential for all scholars interested in the evolution of mentalities and the History of Ideas.
Jean-François Battail, Professor of Letters and the History of Ideas at the University of Linchöping, former Chair of Scandinavian Studies at Paris IV, former Chair of French Literature at the University of Uppsala, and a member of the Swedish Royal Academy of Literature, specializes in Scandinavian Language and Literature. He has authored critical works on Géraud de Cordemoy and Linné and published numerous works in the area of Scandinavian culture and Second Language Pedagogy.
Ouvrage couronné par l'Académie Suédoise, cette étude magistrale offre une vaste synthèse des phénomènes littéraires, polémiques, philosophiques et historiques en Scandinavie dans le premier tiers du XXe siècle. A travers les influences reçues d'Allemagne, d'Angleterre, du Danemark et de France, une spécificité s'impose, qui sera analysée dans les domaines de la littérature, de la sociologie appliquée, de la critique littéraire, de l'activisme politique de droite et du socialisme mystique. Ouvrage indispensable à toute bibliothèque et au chercheur concerné par l'évolution des mentalités et l'histoire des idées.
Jean-François Battail est spécialiste des Littératures et Langues Scandinaves. Ancien Professeur titulaire de la chaire de littérature française à l'Université d'Uppsala, il a mené une longue carrière de Professeur de Lettres et d'histoire des idées à l'Université Linchöping et a été titulaire de la chaire d'études scandinaves à l'Université Paris IV. Membre de l'Académie Royale des Belles Lettres suédoise. Il est également l'auteur d'ouvrages critiques sur Géraud de Cordemoy, Linné, de méthodes de langue, d'ouvrages et articles nombreux sur le monde scandinave.
<<

back